Dive into the Dirt
For those who seek more than just a vehicle—a companion that endures every challenge, an ally that thrives off the beaten path—the 2023 Toyota Tacoma stands tall as an emblem of durability and exploration. Crafted with a rugged charm and engineered by Toyota's legacy of longevity, the Tacoma beckons to adventurers, trailblazers, and those who crave the uncharted road.
In the realm of automobiles, the Tacoma is a distinct breed. Its robust build, coupled with Toyota's renowned reliability, elevates it beyond a mere pickup truck—it becomes a testament to enduring quality. This isn't just a vehicle; it's an extension of your expeditions, designed to accompany you through the harshest terrains and the most audacious escapades.
For those drawn to the thrill of the unknown, the Tacoma isn't just an option; it's a calling. It speaks to individuals seeking more than a mode of transportation—a vehicle that resonates with their spirit of adventure. Toyota's commitment to longevity ensures that the Tacoma becomes not just a part of your journeys, but an enduring companion, ready to embrace countless adventures and stand the test of time.
Join us as we delve deeper into the essence of the 2023 Toyota Tacoma—a beacon for those who seek rugged paths and lasting companionship, an emblem of endurance crafted by Toyota's legacy of reliability.
Refined Comfort in the Rugged Expanse
Step inside the 2023 Toyota Tacoma and discover a harmonious blend of rugged capability and refined comfort. The interior welcomes you with an ambiance that balances durability with sophisticated features. Soft-touch materials adorn the cabin, enhancing the tactile experience while underscoring Toyota's commitment to comfort in challenging environments. With available features like dual-zone automatic climate control and a power-adjustable driver's seat, the Tacoma ensures that your adventures are not just exhilarating but also comfortably tailored to your preferences. Whether conquering untamed trails or navigating city streets, the Tacoma's interior strikes a balance between durability and comfort, ensuring every journey is as enjoyable as it is adventurous.
A Rugged Icon, Ready for Any Terrain
The 2023 Toyota Tacoma boasts an exterior design that's synonymous with durability and toughness. Its bold and commanding presence on the road hints at the adventures it's built to conquer. From the aggressive grille to the available LED headlights, the Tacoma exudes an aura of capability and strength. Designed to tackle the most demanding terrains, the Tacoma TRD Pro stands out with its exclusive features, including TRD-tuned FOX Internal Bypass shocks, unique TRD wheels, and an iconic heritage grille. Offering a striking yet functional appearance, the Tacoma TRD Off-Road boasts taller suspension, purposeful wheels wrapped in all-terrain tires, and an electronically controlled locking rear differential. With options like the SR5 Chrome Package or the SR5 SX Package, the Tacoma allows personalization while maintaining its rugged identity. Its exterior isn't just about style; it's a testament to Toyota's commitment to delivering a truck that's as visually appealing as it is capable.
Conquering the Unseen Terrain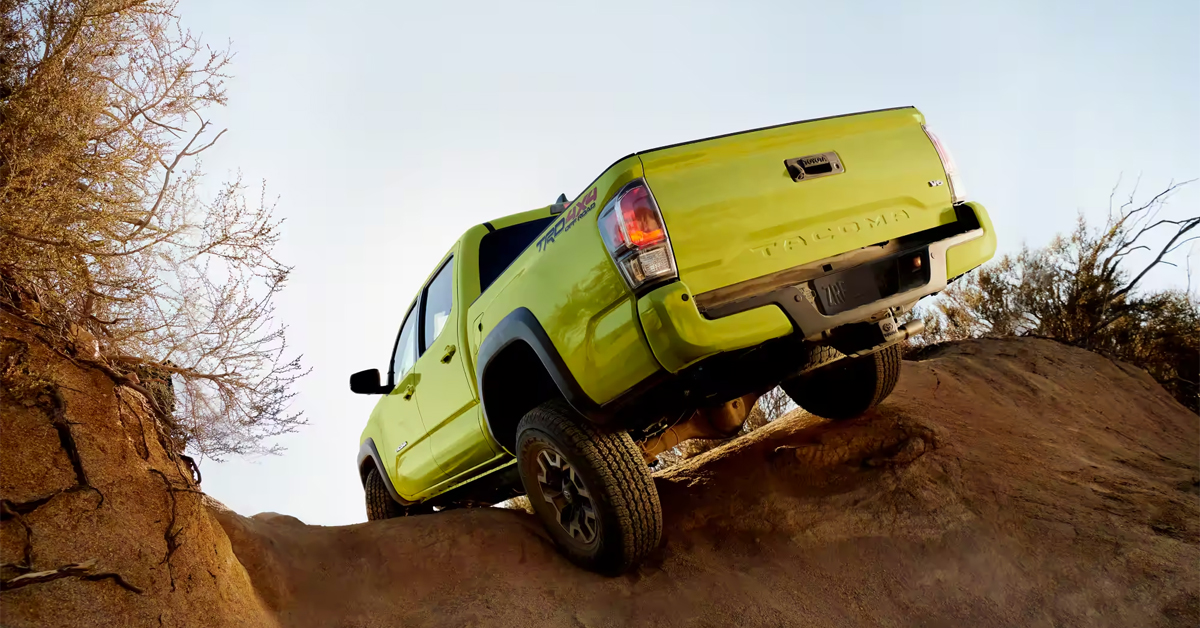 When the asphalt ends, the 2023 Toyota Tacoma truly shines. Engineered for the wild, this truck is equipped with a suite of off-road features that redefine adventure. Crawl Control, an ingenious system, allows for controlled navigation through challenging terrain. It automatically modulates throttle and brakes on five low-speed settings, ensuring maximum focus on the technical trail ahead. The electronically controlled locking rear differential ensures power is distributed evenly to both rear wheels, providing superior grip in low-traction conditions, while Bilstein shocks, standard on the TRD Off-Road, guarantee consistent performance, absorbing impacts even on the roughest trails. These features, alongside the Multi-Terrain Select system, let drivers tailor Tacoma's performance by adjusting throttle and traction control to suit the driving conditions, allowing for maximum traction on any surface. Whether navigating steep inclines or rocky landscapes, the Tacoma redefines off-roading with its advanced technologies, ensuring confidence and control in the face of any challenge.
Unmatched On-Road Performance
Beyond its exceptional off-road capabilities, the 2023 Toyota Tacoma delivers a dynamic on-road performance that elevates every journey. Boasting a robust 3.5-liter V6 engine, it churns out an impressive 278 horsepower and 265 lb.-ft. of torque, ensuring commanding power for any adventure. This powertrain doesn't compromise fuel efficiency, showcasing a remarkable balance between performance and economy. With various driving modes available, including part-time 4WD, drivers have the flexibility to adapt to different terrains and driving conditions effortlessly. The Tacoma's prowess extends beyond off-road trails, proving its mettle on city streets and highways, offering a smooth and confident ride no matter where the road leads.
Impressive Towing Capability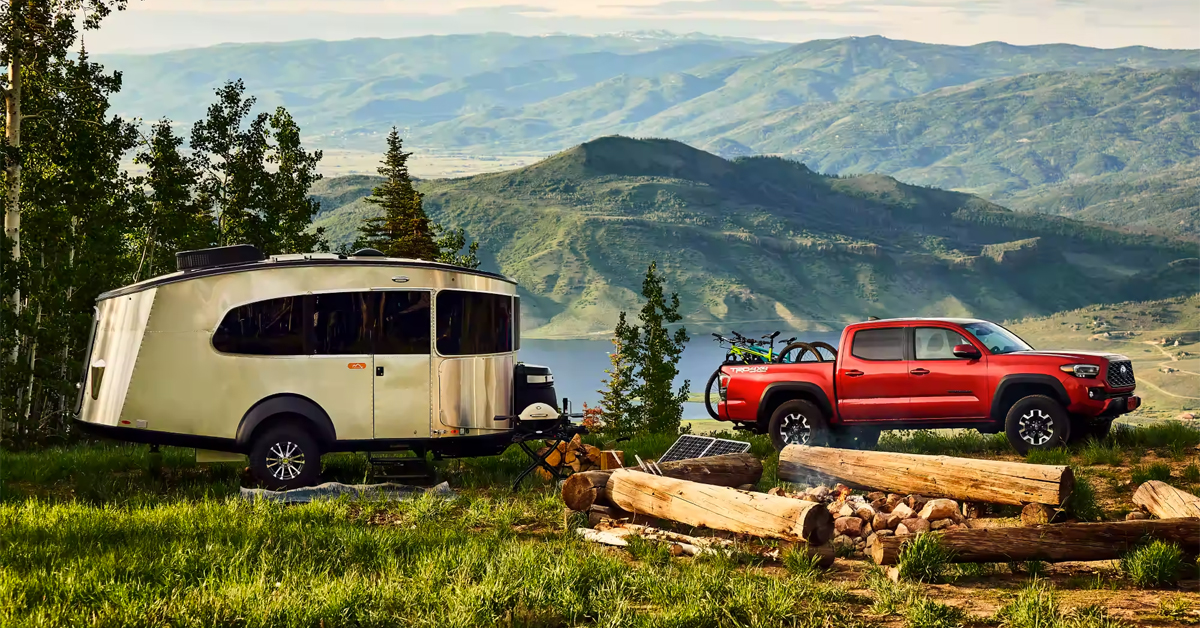 The 2023 Toyota Tacoma is not only built for off-road escapades but also excels in handling towing demands. With its robust capabilities, this pickup truck showcases a remarkable towing capacity of up to 6800 pounds. Whether it's towing a boat for a weekend escape or hauling work equipment to the job site, the Tacoma stands ready to meet these demands with confidence. The available Tow Package enhances its towing prowess, ensuring stability and control while towing heavy loads. This towing capacity is a testament to the Tacoma's versatility, making it an ideal choice for those seeking a vehicle that seamlessly transitions between leisure and work-related tasks without compromising on performance.
Advanced Technology at Your Fingertips
The 2023 Toyota Tacoma embraces a blend of cutting-edge technology designed to elevate your driving experience. The innovative suite of features includes an advanced audio multimedia system that seamlessly integrates with your daily life. With Apple CarPlay® and Android Auto™ compatibility, the Tacoma ensures effortless connectivity, allowing you to access your favorite apps, make calls, receive messages, and enjoy your preferred playlists while on the go.
Additionally, Toyota's Connected Services offer an array of convenient options. Safety Connect® and Remote Connect provide round-the-clock assistance, enabling emergency SOS support, roadside assistance, and remote control functionalities through your compatible smart device. The Wi-Fi Connect capability turns your Tacoma into a hotspot, ensuring connectivity wherever your adventures take you. Furthermore, the Destination Assist feature offers live agent assistance to help navigate to your next destination hassle-free.
Inside the Tacoma, a user-friendly infotainment system keeps you informed and entertained, while available features like Amazon Alexa compatibility add a touch of convenience. The integration of JBL® speakers, specifically tailored for the Tacoma, delivers a crisp and vibrant audio experience, elevating every journey, be it a rugged off-road expedition or a daily commute. With these technological innovations, the 2023 Tacoma seamlessly merges cutting-edge connectivity with practical functionalities, making every drive a delight.
Comprehensive Safety Features
The Tacoma is equipped with Toyota Safety Sense™ P (TSS-P), an integrated suite of advanced safety technologies. This comprehensive system includes the Pre-Collision System with Pedestrian Detection, which uses millimeter-wave radar and a camera sensor to detect vehicles, pedestrians, and cyclists in the vehicle's path. Dynamic Radar Cruise Control helps maintain a preset distance from the vehicle ahead, automatically adjusting the speed to match traffic flow.
Lane Departure Alert actively warns drivers if the system detects unintentional lane departure, helping keep the Tacoma safely within its lane. Automatic High Beams enhance visibility by automatically toggling between high and low beams, providing optimal lighting conditions for the driver without dazzling other road users.
Moreover, the Tacoma features Trailer-Sway Control, a component of the available Tow Package. This system helps manage engine torque and applies brake pressure to individual wheels to help maintain control of the trailer, ensuring stability and safety when towing.
Toyota's commitment to safety extends beyond these advanced driver-assistance technologies, with additional features such as a high-strength body structure, multiple airbags, and a sturdy construction designed to enhance occupant protection in the event of a collision. All these elements combine to make the 2023 Toyota Tacoma a reliable and secure vehicle choice for any journey, whether on or off the road.
The 2023 Toyota Tacoma isn't just a vehicle; it's a companion for those who crave adventure, a perfect fit for Cincinnati's spirited souls. Designed for the great outdoors and urban landscapes alike, the Tacoma embodies ruggedness and reliability, making it an ideal choice for the diverse terrains around Cincinnati. Whether you're exploring the city streets or venturing off-road into the scenic countryside, the Tacoma stands ready to tackle every journey with unwavering confidence.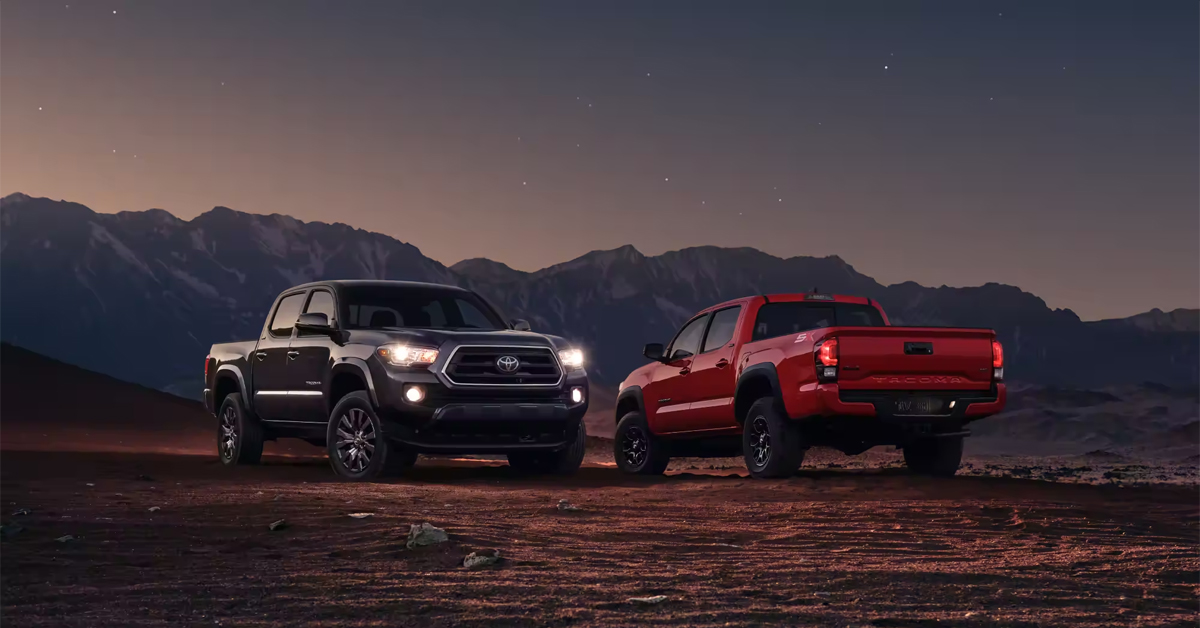 At Joseph Toyota of Cincinnati, we invite you to experience the rugged prowess of the 2023 Toyota Tacoma firsthand. Visit our dealership today and let our team help you find the perfect Tacoma model that aligns with your lifestyle and aspirations. Don't miss this opportunity to discover how the Tacoma can elevate your adventures, providing the versatility, durability, and capability you need to explore Cincinnati and beyond.
Unleash the adventure with the 2023 Toyota Tacoma – your reliable partner for all journeys, no matter the destination. Visit Joseph Toyota of Cincinnati now and start your unforgettable adventure behind the wheel of the Tacoma!