Looking for a Reliable Vehicle in Cincinnati?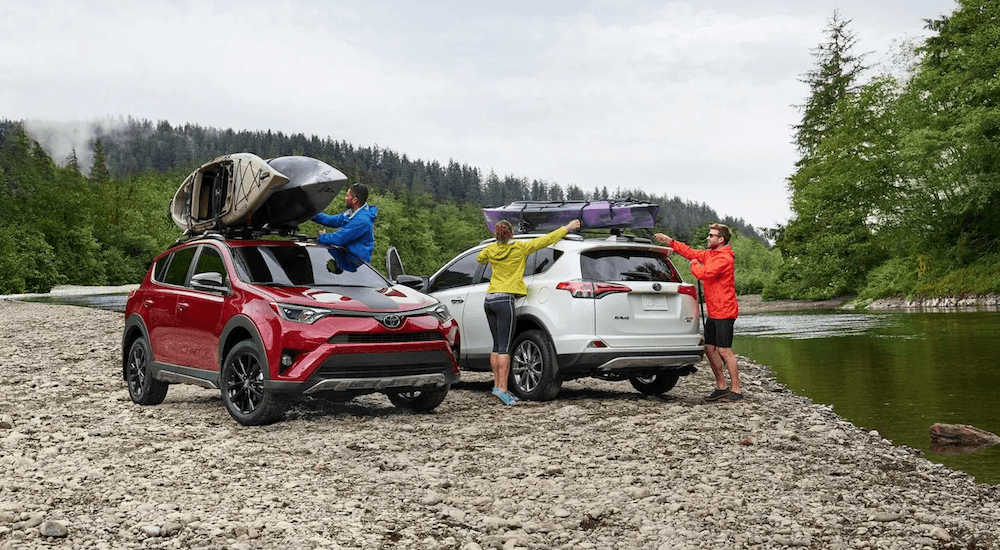 If you're in the market for a new vehicle, first you'll need to decide which make is going to best suit your lifestyle. Although you have a lot of options between GMC, Dodge, Ram, Jeep, and more, how are you to decide? Well, if you're looking for a vehicle that truly revolutionizes the driving experience, you may want to consider purchasing a Toyota. Toyota vehicles are built to last with quality parts and materials. It's no surprise that more and more customers are investing in these vehicles due to their longevity and reliability. If you're considering a Toyota, but you're not sure what model will be best for you, continue reading this article. Also, if you are looking for a Toyota in Cincinnati, we have some recommendations for you.
Which Toyota is Right for Me?
There are a variety of options when it's finally time to purchase your next Toyota, and it can be difficult to decide on which one will be the best fit for you and for your needs. That being said, we're here to help. Each Toyota model has specific and unique capabilities and specifications that set it apart from the rest. Identifying what is important to you in a vehicle will help you choose the vehicle that will make you happy for years to come. Ultimately, its safe to say that you'll want a vehicle that has everything that you're looking for. Thankfully, Toyota offers a variety of packages that you can add on to the overall price of your vehicle. These packages will ensure that you get the specifications that you want and/or need in a vehicle. Read on to find out which vehicle is right for you.
2018 Toyota Corolla
The Toyota Corolla is a tried and true classic that most Americans have grown to know and love. It's classic, it's modern, and it's reliable. One of the greatest aspects of this vehicle is the fact that it gets excellent gas mileage. The Toyota Corolla will get about 28 MPG in the city and 36 MPG on the highway, which will be sure to excite any potential buyer. Due to the fact that you'll be saving money on a monthly payment and your weekly trip to the gas station, you'll be able to put more money towards things that you want or need in your life. Furthermore, the Toyota Corolla has some amazing features like:
Lane departure
Automatic temperature control
Exterior parking camera
Split folding rear seat
Distance pacing cruise control
Wireless phone connectivity
Auto high-beam headlights
Remote keyless entry
These are just a few of the perks you'll find in the Toyota Corolla. If you've been looking into the Toyota Corolla, take some time today to go test drive one! You'll be glad that you did.
2018 Toyota Tacoma
If you're opting for a larger option, the Toyota Tacoma could be the perfect vehicle for you. This truck is reliable and efficient for its size. You'll be amazed by the powerful engine that comes standard on this truck. You'll get a 3.5-liter V-6 Cylinder, which is incredible. Tacoma owners can attest to the fact that this truck can withstand most conditions that it encounters. Take the guesswork out of driving and purchase the reliable Toyota Tacoma. Some other noteworthy features are the:
Navigation system
Lane departure
Leather upholstery
Power moonroof
Blind spot sensor
Distance pacing cruise control
Automatic temperature control
Wireless phone connectivity
Although the Toyota Tacoma can offer much more than the aforementioned features, this should provide you with a general understanding of the wonderful driving experience that you'll get with the Toyota Tacoma.
2018 Toyota RAV4
The Toyota RAV4 is a reliable option that is a happy medium between the Corolla and the Tacoma. If you're looking for a mid-sized Toyota in Cincinnati, the RAV4 is a great option. You'll get 22 MPG in the city and 28 MPG on the highway, which is excellent for a vehicle of its size. Furthermore, there are a plethora of exciting features that will be sure to impress you. Some of the best features offered in the Toyota RAV4 are:
Lane departure
Automatic temperature control
Wireless phone connectivity
Front dual zone A/C
Distance pacing cruise control
Power moonroof
Exterior parking camera rear
Auto high-beam headlights
There are so many great reasons to drive a Toyota RAV4, but we think that the aforementioned specs are some of the best. If you're looking for a mid-sized option that is reliable and safe, but still modern and trendy, the RAV4 is a great option.
2018 Toyota Sienna
This vehicle is no longer just for "Soccer Moms," because everyone will love the impressive features and gas mileage. The Sienna will get 19 MPG in the city and 27 MPG on the highway. This is definitely a game changer for those who want a vehicle with a lot of space but don't have the money to afford a gas-guzzling vehicle. The Toyota Sienna is the perfect compromise of economy and space. Some noteworthy features that the Sienna offers are:
Lane departure
Automatic temperature control
Exterior rear parking camera
Auto high-beam headlights
Distance pacing cruise control
Wireless phone connectivity
Front dual zone A/C
3rd row seats
The Toyota Sienna is a vehicle that everyone could benefit from in one way or another. Although some may not need the excess space that's offered, most could always use a little bit of extra room for passengers or cargo. The Toyota Sienna is a vehicle that will provide you with everything that you need, including reliability and safety.
The Bottom Line
Although it can be difficult to choose the right Toyota in Cincinnati for you, it can be done. After exploring the options provided by the Corolla, the Tacoma, the RAV4, and the Sienna, you should have some idea of which would best suit your lifestyle and needs. There are other options available as well, so if you're not sold on any of the four vehicles that mentioned here, we suggest checking out your local Toyota dealership.
Finding a Toyota in Cincinnati
If you've decided to purchase a Toyota in Cincinnati but you're not sure where the most reliable dealership is, drive on over to Joseph Toyota. We are conveniently located at 9101 Colerain Ave, where you'll be able to find all of the best new and used Toyota models. If you're interested in test driving, or you know exactly which model you want, we'll be able to help you. We've helped thousands of customers with their car-buying needs and we'll gladly work with you as well. Toyota's a reliable brand and we stand behind them 100%. If you ever find yourself in a situation where you need service after purchasing your vehicle, we'll be able to assist you with that as well. You can easily schedule your service appointment online, which will save you precious time to spend doing other, probably more important, things. Another thing that our customers love is the fact that we are constantly offering specials and sales on our vehicles. Why overpay with the dealership around the corner when you can pay the absolute lowest price on the vehicle that you've been dreaming about? We are experts and ready to help you with whatever you need. Come see what Joseph Toyota can do for you today!